Summary
Description / Review:
Bouncers - they are rough, tuff and dangerous to know! It's Friday night, you worked hard all week and you need a beer. But getting busted by four filthy bouncers at the local with a pocket full of dope ain't a great way to start your night. Getting dragged into the back room, the unlucky punter gets forced down and surrounded by four heavy pieces of bouncer trouser beef, each one wanting to plant his rod into the throat of the bad lad.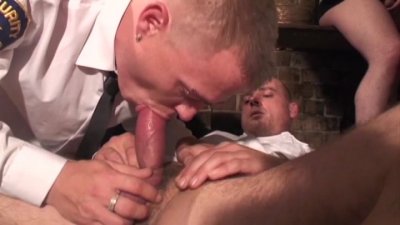 These men are cropped, skinned, inked and pierced and they're all fit as fuck! Lots of slapping, spitting, and rough snogging goes on as each cock gets well sucked and balls and tits get worked over. With his red slapped ass now ripe for the taking, the four bouncer buddies bend the poor lad over and, with a spit and shove, one by one ride the guy hard and fast. Snorting poppers helps the lad along but with the size of cock he is forced to take, you know it's gotta hurt. Not wanting to be left out, one of the bouncers then offers up his hairy hole for some filling from his mates - and they all take their turns on him too. This is pack mentality at its best - all fighting for a piece of arse or cock. They are all gagging to get off and empty their balls on one of the gang.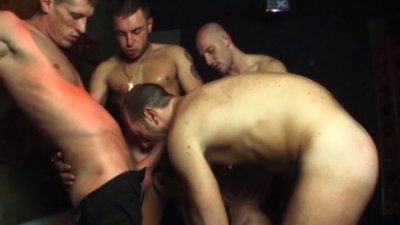 On Saturday morning a couple of the team doing a sweep of the venue find a trashed scally who needs sorting out. Getting his throat fucked seems to wake him up and soon the threesome becomes a four-way as another horny customer joins the action. A third bouncer decides he wants in and now the four grows to five, then six as more cock gets thrown into the mix. By now the mouths are dry from sucking knob so the attention moves to a couple of the lads who get their tight arse rings stretched and slammed by the group. The session ends with bucket loads of cum over tits, faces and in mouths.
Then a big burly bouncer ends this fuck flick with a solo stroke, probably thinking about what his mates have been up to back at the club. Bouncers is hard and honest geezer fucking with scally lads taking it up the arse and down the throat. Classic Triga at its very best.