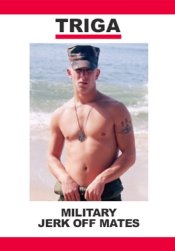 Summary:
Not made by us, but comes highly recommended by The Triga Crew! Once in a while you can watch lad porn that doesn't features your usual beefed up and made up man. Continuing in our UK exclusive distribution of 'lucky cunt Uncle Don', Triga are proud to release 'Military Jerk Off Mates! The footage is quite ropey but the content if you like this kind of 'straight', Military USA lad footage you'll love it like we do. This DVD is not yet available in UK stores or on any other websites. Available for immediate delivery.
Description / Review:
Triga's usual rabble of scally Brit boys are replaced by a bunch of Yank military dudes who are willingly coerced into `kicking back & knocking one out` for the camera; str8 porn & a few beers giving rise to some healthy hard-ons. These fit fuckers usually stay focused on the action on the TV as they stroke their sticks; luckily for us, Uncle Don stays focused on them. Scene One; three mates strip off & jerk their cocks on the couch. Then Uncle D gets them to squat down on a floor mirror so that us `butt n hole` lovers are not left wanting, allowing some very close up views of some tight unshaved hole. The blonde `Aussie` is pure trailer trash; easily the star of this scene. Check out his butt when he's in the shower. Fuck, yeah!!!
Then it's down to the beach to see if some more military flesh can be persuaded to `put out`. Cisco, a very fit rookie, is just getting off duty but he seems more intent on just `getting off`. Back indoors, we see him steeping out of his FTL's & stroking in just his cap & d-tags. HOT!!! A `mirror corner` gives us a perfect `all round view` of his perfect `all round ass`. Again, a floor mirror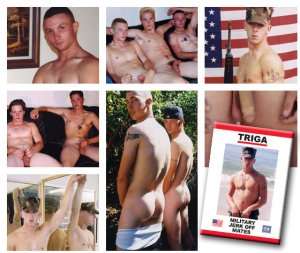 gives a great view of his lush ring. This guy has real attitude but it suits him. Once he gets it up his cock is as impressive as his butt and his cum shot would satisfy most cum-guzzlers. Shaun is `up` next but I have to say I love the way the guy looks `on the soft`……his big uncut schlong looks well impressive as he playfully pulls it to full mast. His neat tight butt is also a credit to him. Rather than squatting down, Shaun lies on his back, legs up and spread, to properly show off his horny hairy crack. Again, the floor mirrors take the brunt of his full balls.
Ryan & Joe are next to find themselves under the beady eye of Uncle Don but this time it's all shot outdoors in the woods. Their sexy `tighty whiteys` are soon dropped to give them (and us) full access to their ever swelling knobs & again we are given the visual treat of a couple of pert young butts flexing in the sun. Back in `the office it's a case of `assume the position` as the guys strip completely & individually `deliver the goods`. Ralph is broke & so is a prime candidate for UD & his lens. A mean looking son-of-a-bitch with steel eyes & low hangers he strokes & spurts looking like he really just wants his $$$. LOVE IT!! Then `Aussie` makes a welcome return, this time joined by Kai & Joe. Armed with porn, lube & a plastic pussy the guys wander into the bush & whack 'em out, nervously joking about with each other. Two of the guys then play with the fake cunt, one fucking it while the other holds it. The boys then get REALLY creative with the latex toy but I won't spoil the surprise. Some nice ass shots follow b 4 the shoot ends to go inside where they strip, stroke, suck each other, squat to show hole & finally spray over the floor mirror. Films like this are great if you're over the standard US gloss porn `kiss, suck, rim, fuck, cum` formula. The guys are fit, horny and `up-4-it`. But best of all the guys are `street real`. And that's what makes them so fucking horny. Now I need to join the guys in their jerking; my balls are hurting. Reviewed by Adam Carr
If you want pure amateur jerk-off footage featuring prime US military boys...then this is for you. No gloss, no sets, no acting. This is the real deal! In this film, the seventh film of the series, "Military Jerk Off Mates" features 8 scenes and sixteen lads ready to blow their offspring laden loads!....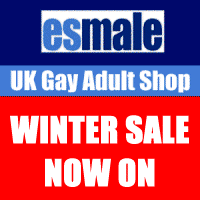 Esmale (UK Gay Adult Shop) sells a large range of gay adult sex toys including a range of fetish and restraint products, Cock and Ball play items, Whips, Paddles and Slappers, Blindfolds, Masks and Hood and are the UK stockist of Mr B leather and fetish products. They also sell a large range of men's designer underwear, condoms and lube, fleshjacks, jock straps and anal toys. Treat yourself!
Save an extra 10% on top of their already discounted prices with our exclusive code 'GAY10'. Click here to shop
See also: www.gayadultshops.co.uk