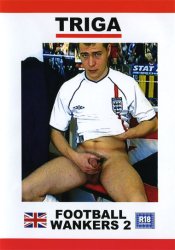 Summary:
Wearing crisp, clean trackie bottoms, shin-pads, and footy boots, these filthy straight and bi lads are straight out of training and ready to blow. Rubbing their throbbing cocks through their kit, before getting naked, each lad gives a solo performance for the camera, working themselves up until they shoot their thick loads everywhere. Some lads prefer to tug their bulging dicks through their shorts, others like to pull it out straight away and slowly wank until their hot cum sprays everywhere, but each one is as fit as fuck.
A mucky skinhead in his Chelsea top slowly pulls his thick prick, before laying back and exploding over his smooth stomach, a working class lad in his England strip pumps hot jizz over his shorts, a guy with premier player looks and a donkey dick erupts over his tattooed six pack, and one of the guys even dares to finger his ass for the camera before jetting his spunk over his chest and belly.
If you like Sunday league blokes, or premiership players, each of these guys gets his kit sticky, and shoots his load like he's playing for England. If you love footy players, and love horny, working class action, we guarantee you'll love this!
See also: Football Wankers 1
Review. I've been doing these reviews for a few months now and if you've read any of my other stuff you'll know I go thru the film, detail some of the action, try to leave the best bit till last and keep it concise. Well, with this film that format goes out the fuckin' window. Football Wankers Vol. 2 features seven lads. 7 amazing lads. 7 super sexy, super horny, super spunkers. Every lad is a star; a testosterone-filled, fit-as-fuck star. So, for this review I decided to give them each a name, cool, huh. `Stuart` kicks off in his Celtic kit, rubbing his cock thru his baggy shorts. We get treated to the sight of his lovely, soft, fat knob growing into a strong, hard, uncut beast with just the right amount of foreskin; watch it glide back to reveal his swollen helmet. Great legs, firm ass, fit torso and check out his eyes!! Stuart is just a pleasure to watch as he wanks and cums, head tilted back, lost in his own dirty-lad thoughts. One of the best solo scenes Triga has filmed to date.
`Neil` is what I call a `puppy`. Cute with youth; see the way he looks at you with those timid eyes. No idea why 'cos this one has nothing to be shy about. Well hung and well horny with low hangers, he stares into the camera once he's shot, as if to say "was that ok"…..adorable. Chelsea-lad `Mick` is a total contrast; a big pricked, sneering bone-head who plays to the cameraman; dirty cunt. Again, we see another lovely knob on display here. But with Mick we also get some great shots of his smooth ass and shaved ring. Cheers for showin' it off, Mick. Much appreciated. Pocket-rocket `Lee` has a well formed, tight frame, more than a handful between his legs and a mouth that remains `defiant` throughout his performance. I just wanted to get to physical on his smooth chest and work his nipples; yeah, something very `rent` about little Lee (and take that as a compliment, mate). `Anton` is the total opposite. Unshaven, dark and handsome he's built more for harder sports than soccer but ; big thighs, muscular calves and a rump that he proudly displays, even pulling his cheeks apart to show off his deep asshole. Loved those shots, mate; teasing and mouth-watering. Overall, he can only be described as `well impressive`. By now my balls we aching but I wanted to finish the review before blowing me wad. Moody `Michael` tested that resolve. Sitting astride a weights bench, lookin' thru pussy porn, this sexy fuck showed off his pits while his cock twitched and stood to glorious full attention. He then turned round to show off his lightly haired ass and shaved nuts, wanking his cock bending forward and sticking his butt out oh-so invitingly. He blows and sighs. I so nearly did too. But finally I got to `Steve`; My God. This lad is stunning. Wearing shorts and a zip-up trackie top he is a massive turn on from start to finish. I won't spoil it for you guys but the keywords with this one are; brooding, hard-on, jockstrap, shin pads, sweet hairless hole, greased finger, confidence, thick seed. So there you have it.
A film that, since I first saw it 3 weeks ago, still ain't been out of the DVD player. I've cum wiv it every night since and still has a few more weeks' worth of wankin' in it. This film is simply a must-have for your porn collection. It will become a favourite. Period! Reviewed by Adam Carr
Unfortunately this titles appears to be currently unavailable or has been deleted. Click here for current Triga Gay DVDs
See also : Football Themed gay DVDs available from Simply-Adult.com
Triga Football themed Gay DVDs include