Description / Review:
Let me get str8 to the point, guys; Scally Boy Wankers is a non-stop real-lad jerk-off marathon. From the `boy next door` to the `ruff as fuck geeza`, Triga have gone out and sweet talked a load of horny guys to strip down and dump a load on camera. Clever cunts. Opening the film is a hard looking bastard (the kind that only uses spit to lube a willing hole); hung, and inked, he strips off to reveal a healthy looking knob which he jerks with increasing speed, his nuts bouncing up and down as the cameraman gets right in there with all the right angles. He puts a real effort into his wanking and sprays a nice load on the floor, breathing heavy as he empties his balls.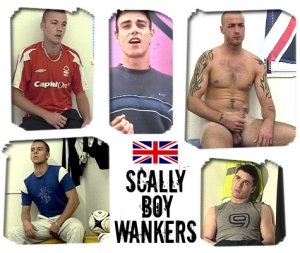 Up next is the guy on the cover on the DVD box and he's on the cover for a reason. I have to confess I very nearly shot when I saw him strip off to reveal his torso. This lad smokes and drink so how the fuck does he get to have a body like he does!!! My guess is this ain't no gym bod: this is pure supreme genetics and a hard manual job. Small tight pecs, rock hard stomach, broad shoulders, raised veins that travel down each defined arm and a thick dark bush that frames his cute boner. He even treats us to a shot of his firm, tight butt and hairy hole, flashing a cheeky grin into the camera while on all fours. Eventually after much joking around with the film crew he kneels and unloads. A great scene…..yeah, a really great scene.
Any Nottingham Forrest supporter will love the next jerker. One of the lads from Scally Boy Orgy makes a welcome return, looking leaner (maybe that's why I think his cock looks bigger) and even more horny than b 4. Fag in one hand, knob in the other he gets out of his kit and onto a mattress on the floor where he works his cock over. And when he finally shoots, he does so holding a can of beer, never spilling a drop. No that's what I call `true Scally talent`.
So far, all the action is about solo wank scenes. But with the introduction of a super sexy, super cute, bottom-boi (another very welcome return from ScallyBoyOrgy) the emphasis switches form cock to ass. And he ain't shy about his talent for taking toys in his rear. This lad is the kind I'd love to find on the end of me knob anytime of the day or night. He's a dirty puppy; naturally smooth (although I'd volunteer to be the one to shave his hole ready for his close-ups) and well toned. To watch him plunge that big black dildo in and out of his tight greased ring was enough to distract me from doing the review and pull me knob out the side of me shorts for a few minutes of self-gratification. A fucking nasty scene from a very fucking nice lad. But just when you think you know what's coming next, Triga deliver a twist. The next scene features a more clean cut guy; more 'gym` than `street` in looks and sporting a decent dick but still with that `fuck you` attitude. The twist comes as he is about to empty his balls. As the cameraman gets into position to capture his `money shot`…..nah, I ain't gonna tell ya…..but you'll be left with a grin, or some pre-cum like me, when you see it.
Then another guy decides to show what a butthole can get used for; showing how he gets his kicks by sitting down on a latex toy , going for a ride and then dumping the contents of his nutsac on the floor. But as is usual the best is saved for last. Let me keep it real simple for ya. Triga have found a true `diamond `. The guy is just the fuckin' TOPS. Totally horny. Yeah, his skin ain`t perfect and he ain't hung like a horse and he is more rugger than ripped. But I took one look at him and got hard…..and stayed hard. And I didn't fast forward thru any of his scene. I wanted to savour every second from start to finish, marvelling at him as he worked his cock over. And I watched his scene 3 times before I could really focus on finishing this review. Look at his eyes, his mouth, his innocence mixed with the devil……Watch the casual way he discards his fleece top to reveal a heavy thick set of arms and shoulders. Watch the way he plays with his cock in his trackies, eventually pulling off his shorts and boxers to flash his cock. No, he ain't what I'd call HUNG….but again it goes to prove my theory that cock size has absolutely no relevance to a lads ability to be horny. When he lifts his arms up to lift of his sleeveless t-shirt my cock twitched and leaked at the sight of his hairy armpits and deep thick set pecs. When he looked into the camera lens as he jerked his cock I had the filthiest thoughts. His mouth and lips look made for sucking knob. When naked he sits, big lad-thighs spread apart, looking so fucking edible and yet, I get the feeling he has no idea just how awesome he looks. He even gets on all fours to show off his hairy crack and perfect arse. How I held off spunkin' at that point I don't know but believe me, when I did eventually put my nuts out of their misery, it was when he emptied his load onto his stomach while smiling and grinning all the time. Right guys, I'm fuckin' spent……but that's the point, ain't it????

Ever get pissed off after a game of 5 a side? Well one fit scally does in Triga's 5-A-Side Piss Up when he catches lads from the other team pissing all over his gear. This fucked off footie lad really dampens the atmosphere and, as the attitude flows, the changing room becomes a full-on wet room as streams of piss fly everywhere. You'll be spunking in your boxers with this piss-stained classic as, once again, Triga delivers a knock-out yellow piss fest! In fact, these charged-up lads drench each other as only scally lads do. Never mind who won the fucking game, it's the taking the piss that counts. Plenty of fucking and sucking in this changing room that's for sure! So if you like a sporty five-a-side orgy, 5-A-Side Piss Up won't disappoint. Swimming in your own piss? Too fucking right!


Triga have done it again, with a load of sporty solos as the lads get dirty and knock one out good and proper. These are Yobs In Kit!
See horny boxer lad Lee from Nottingham in his blue and white kit stroke his hard meat as his sexy eyes draw you in - he'll have you reaching inside your undies before you can say "show us your fit arse you cunt!" Moreover, Andy, a little scally from Derby, gets his trackies down and delivers a nice sticky load.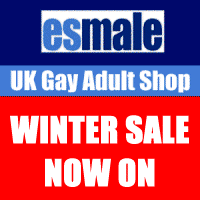 Esmale (UK Gay Adult Shop) sells a large range of gay adult sex toys including a range of fetish and restraint products, Cock and Ball play items, Whips, Paddles and Slappers, Blindfolds, Masks and Hood and are the UK stockist of Mr B leather and fetish products. They also sell a large range of men's designer underwear, condoms and lube, fleshjacks, jock straps and anal toys. Treat yourself!
Save an extra 10% on top of their already discounted prices with our exclusive code 'GAY10'. Click here to shop
See also: www.gayadultshops.co.uk