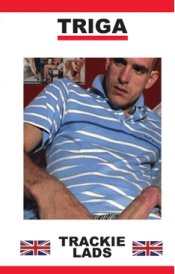 Summary:
In Trackie Lads, a bunch of scally lads spunk for you, solo and in pairs. You know the deal with Triga - working-class lads getting all rough and riotous in a very real way.
Trackie Lads kicks off in a council flat with Warren. He's big, butch, tattooed, shaven-headed and mean-looking and is wearing white trackie bottoms through which he's massaging a big old log of a knob. He pulls the trackie bottoms off and we see his foreskin gliding back and forth over his dickhead with the spit glistening on it in close-up. Warren starts wanking with the discarded trackies until he spunks onto his hairy belly.
Next up is a cute young bloke, wanking through black trackies. When he de-kits, he's got great abs and an edible penis, which he starts wanking until he shoots. The next guy is in an Yves Saint Laurent jumper and trackies. He's about eighteen, has a very long dick and naturally bushy pubes. The close-up is almost too much as he spunks and looks into the camera.
He's followed by a bloke who, while very Triga, also looks a little like Brad Pitt. He's soon out of his trackies and wriggling around on his front showing his lily white arse. The original bloke in white trackies comes up the stairs with a younger bloke and they are soon on the bed, kneading each other's dicks through trackies, sucking on dicks like there was oxygen in there and, finally, fucking like dogs until the young guy, who has been pounded, comes in the older guy's mouth.
The dvd rounds off with a skinnier guy, very cute with a killer body, getting out of trackies and spunking followed by another bloke in footie gear giving his cute little dick some welly.